A new historical novel set in 18th-century America. The harrowing tale of a young, indentured Irish immigrant.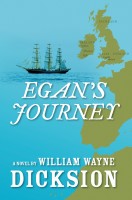 It's 1885 and famine has struck Ireland. Fifteen-year-old Egan is about to be flogged for stealing a few potatoes from the Earl's land where his family live as serfs. His parents spirit him away to a sea captain who deals in indentured servants. And so, Egan's journey from Ireland to the American colonies begins.
About half of the white immigrants to the American colonies in the seventeenth and eighteenth centuries were indentured, a practice that endured, albeit on in a smaller scale, well into the nineteenth century. Egan's Journey is the story of a boy who leaves his home in Ireland under threat of death for scavenging food for his starving siblings. Could America be his salvation? Egan's knowledge of America was limited to stories he had heard about a place where people lived free, and land could be had by anyone willing to suffer through seven years as an indentured servant. Egan agrees to those terms and learns that the land you earn must be fought for.
Buy Egan's Journey in paperback.
Buy Egan's Journey in Kindle format.
Buy Egan's Journey in ePub or other digital formats.