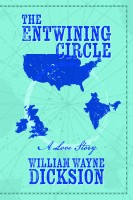 Hard times have hit Troy Dean Talbert's family in Oklahoma. His father Tom has been losing his crops to drought. When the bank forecloses on their farm, Tom is forced to move his family to California. However, an incident occurs that allows Troy to graduate from high school and not have to move west with his family. He hopes to marry his sweetheart but instead she marries someone else. He is devastated, joins England's Royal Air Force, and becomes a war hero.
When Troy is badly wounded, he is ordered to recuperate at Lady Ashley Wakley's castle. Here he finds love and prospers. But Lady Ashley soon finds other diversions and leaves him, which plunges Troy into self-doubt again. His doctor tells him that he should return to where the trouble started; in order to find himself, he must go to where he lost his confidence. So he goes back to Oklahoma . . . .
The Entwining Circle follows Troy, who regains his confidence and also helps his family, who were caught in a cycle of tragic events: drought, war and greed. Troy finally realizes that his true home is in England with Ashley.

Click here to purchase The Entwining Circle in your favorite ebook format.

Click here to purchase The Entwining Circle in trade paperback.